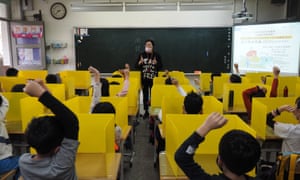 Students sit behind partition boards to prevent infection.
Photograph: David Chang/EPA
The Center for Disease Control (CDC)
guidance
on reopening of schools will require innovative thinking to re-imagine how schools may open in the upcoming school year and beyond. The key will be agility and flexibility. That's because we've learned that we don't quite know what's ahead of us. Schools need a plan that fits many possible scenarios and
provides options for families and staff that work best for them and are as safe as possible.
To implement the CDC guidelines, schools will need to dramatically reduce the number of students who attend school full-time. Guidance for schools that have reopened in other places generally states no more than fifteen, socially distanced students in a classroom. To attain this, in some cities, they may need to keep a large portion of the student body at home. In many districts this will mean keeping remote learning for most high school students and for all middle and elementary students who learn better this way.

An agile model would be ready to switch opportunities for students as circumstances allow and as families request.
All schools should put in place the following options for all students:
Learning options
Traditional Model: Face-to-face instruction

Blended Learning:

Students learn via electronic and online media as well as traditional face-to-face teaching.

Virtual School:

Students learn either entirely or primarily online.
Here's what that looks like for staff and students
For Staff
School-based / Blended:
Staff who are in good health, will be encouraged to report to school and operate as per the CDC guidelines.

This means less crowded campuses, no large-group activities, health checks, staggered schedules, meals in classrooms, etc.

In addition to being face-to-face, classes will be live-streamed for synchronous, asynchronous by students attending school from home or engaging in blended learning.
Home based:
Some staff may be immunocompromised or have other factors that make working from home the best option. Engaging in a virtual learning program may make sense for these staff members.

Some of their students would be ones who learn from home. Others could be those who tune in from their respective school buildings or engage in the class asynchronously.
For Students
School-based / Blended:
Like staff, students who are in good health, whose families feel in-person learning is best, will report to school and operate as per the CDC guidelines.

Students will have health checks, staggered schedules, social distanced recess and meals in class.

They will have classmates socially distanced from them in class. They will also have classmates who are taking classes remotely or are following a blended approach and will attend school from time to time.
Home based:
Some students may be immunocompromised, sick, or just find remote learning works well for them. These students can continue learning from home from school-based and home-based teachers. They may also join their classmates from time to time as circumstances allow.
While the class size of face-to-face students will be reduced in these scenarios, it is possible that teachers will have the same class size. The difference is some of their students will be taking classes remotely and others will follow the blended model.
Schools will need to train and support teachers in providing this type of agile learning experience.
While some schools will struggle to figure out how a model like this will work, there's at least one school that has determined plans for the fall that allow for such flexibility. That school is Arizona State University (ASU). They had the infrastructure and tools in place that allow for students and staff to engage in school in a variety of ways.
ASU already had in place, the three platforms necessary for flexible learning.
Infrastructure includes:
Canvas: An online learning management system. Other popular platforms are Brightspace, Google Classroom, and Blackboard.

Slack: For discussions and collaboration. Other popular platforms are Teams, and Workplace.

Zoom: For video conferencing. Other popular platforms are Teams Meet and Google Meet.
ASU has identified three learning options that students can choose from.
Learning

options

include:
Synchronous on-campus
This is what traditional school looks like. Students come to class and learn. However, they will be learning among other students who may be participating remotely.
Technology-enhanced learning
A blended approach where students take some classes online and others face-to-face.
Asynchronous full-digital immersion
This is what we think of as a virtual school.

There can be live video instruction.

There may be recorded resources and instruction.

School takes place online and can be accessed anytime/anywhere.
These models and infrastructure were put in place because college president, Michael Crow has advocated for using technology to make learning more flexible and accessible. This is part of the reason Arizona State has been named Most Innovative School by

U.S. News and World Report

for the past six years.
Additionally, the faculty is adept at teaching in a variety of ways:
Teach from home
Faculty is set up with the right equipment and training to teach from home.
Teach from class
Faculty is set up with the right equipment and training to teach from class.

They serve students who participate face-to-face.

They are also live streaming to provide live or recorded instruction to students who are taking the class online or using a blended approach.
Your turn
District and school leaders everywhere are trying to wrap their minds around the new reality and come up with plans to adapt. An agile plan can move and adapt easily as our reality constantly is changing due to COVID-19 now and something else in the future. What is happening where you teach? Are they just hoping for the best, delaying the school year start, remaining remote, or doing something more agile?